Start of construction of PHA extraction pilot
A memorable day for Paques Biomaterials. Today, Willem Hummel, Project Manager of Vicoma, hands over the Basic Engineering Package for the PHA extraction pilot to Jan Peter Borger, our Project Director. A big step for Paques Biomaterials. Now, construction can start, which will be executed by Eekels Technology. On this happy event, Jan Peter Borger, Peter Vernimmen of Eekels Technology BV and Esmond Bakker of Vicoma Consultancy & Engineering raise the flag at the GETEC site in Emmen. A crucial step for Paques Biomaterials has been taken!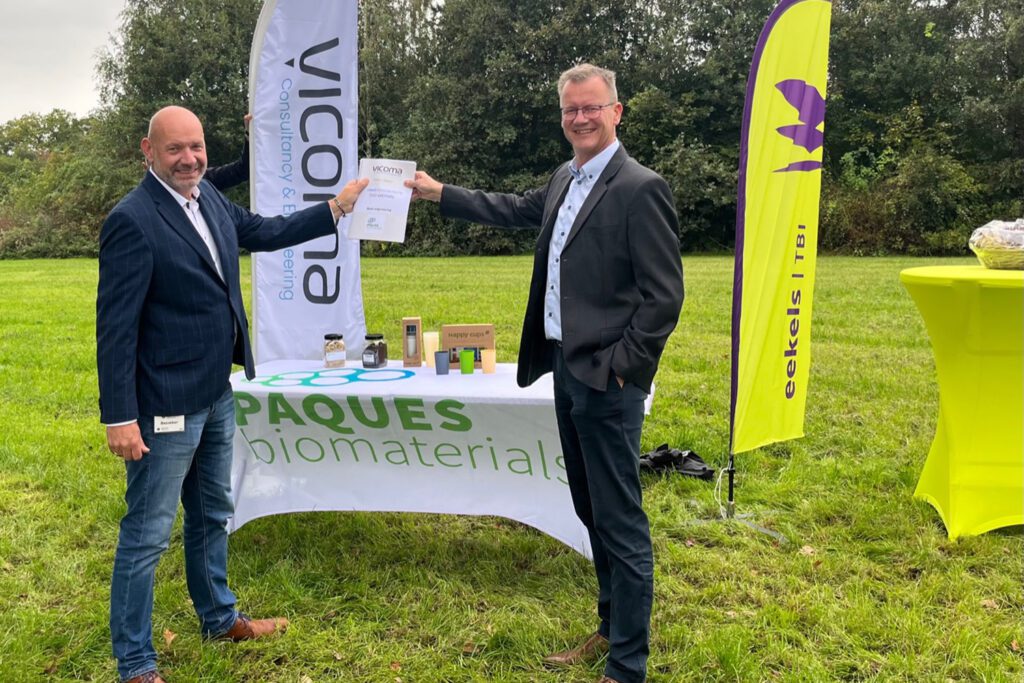 PHA extraction pilot
Paques Biomaterials has been working for more than ten years on a new chain in which bacteria in organic waste streams produce the biopolymer PHA, a natural alternative to plastic. PHA is also called the most promising biopolymer because it is made by nature and wholly degraded in nature. A test plant has been running for over two years in the PHA2USE project at HVC in Dordrecht to produce the PHA in organic waste streams. PHA-rich biomass is created from wastewater, from which the PHA is later extracted into a clean, high-quality biopolymer. Paques Biomaterials is now at the point where a pilot plant will also be constructed for extraction. Producing batch quantities of Caleyda® is crucial for Paques Biomaterials BV as it allows customers to test Caleyda for their applications.
Transform a unique process into common technical solutions
The cooperation of the three parties started with a Memorandum of Understanding. This way, everyone was closely involved in the basic design right from the start to avoid surprises afterwards.
"We transformed Paques Biomaterials BV's new unique process into common technical solutions where possible. This allowed us to increase the flexibility of the pilot plant, as it allows any modifications to be more easily integrated," says Esmond Bakker of Vicoma Consultancy & Engineering. "The pragmatic and flexible design has proved successful. This has resulted in a solid basic engineering package which forms the basis for a functioning demo plant."
Sustainable features
Eekels Technology BV is also looking forward to implementing this demo plant and hopes they can proceed with the construction of the final sustainable plant in the future. "The sustainable features of this facility fit perfectly with Eekels Technology BV's strategy. In addition, it is particularly favourable that Paques Biomaterials BV has chosen to realise their pilot on the GETEC site in Emmen, given that we also have a working location there," said Chris Schepers, statutory director of Eekels Technology BV.
Why Getec park Emmen?
Realising the extraction pilot at GETEC.PARK EMMEN is the final step before building a full-scale 6-kiloton extraction plant, for which Paques Biomaterials has an option on a 3-hectare site located at GETEC.PARK EMMEN. Paques Biomaterials BV has selected the GETEC site EMMEN for this pilot. The site in Emmen provides access to a site in the right industrial class, has excellent facilities and offers the opportunity to cooperate with knowledge parties in the circular economy on one hand and with parties with a lot of experience in the production and application of biopolymers, such as Senbis Polymer Innovations, on the other. Senbis helps Paques Biomaterials optimise Caleyda for its various applications.